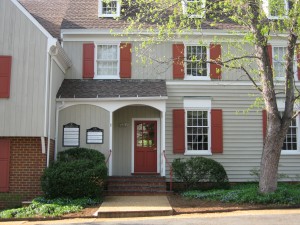 Located at the Boar's Head Office Complex just off of Ivy Rd (Route 250 West) with convenient access to Route 29, I-64 and the University of Virginia:
3 Boars Head Lane, Suite C-6, Charlottesville, VA 22903, 434.566.0113
I see clients by appointment Sunday through Thursday.  Please call my office at 434.566.0113 if you have any questions or would like to set up an appointment.  Or contact me through my secure contact form here.
DIRECTIONS
From North of Town on Route 29
• Take the Lynchburg/Staunton 250 West Exit • Take the Charlottesville/Ivy Exit to 250 West (turn left at the light) • Travel approximately one mile and turn left at the Boar's Head Inn entrance • Take the first right onto Boar's Head Lane • Building Three is the second on your right (tan building with red-orange shutters) • Go in through the front door, up two small flights of stairs, and through the hallway in front of you (labeled Suite C) • My office is near the end of the hall on your left in Suite C-6
From Route 64, or South of Town
• Take the Charlottesville/Ivy Exit 118-B towards Charlottesville • Travel two miles to the 250 West Exit (turn left at the light) • Travel approximately one mile and turn left at the Boar's Head Inn entrance • Take the first right onto Boar's Head Lane • Building Three is the second on your right (tan building with red-orange shutters) • Go in through the front door, up two small flights of stairs, and through the hallway in front of you (labeled Suite C) • My office is near the end of the hall on your left in Suite C-6